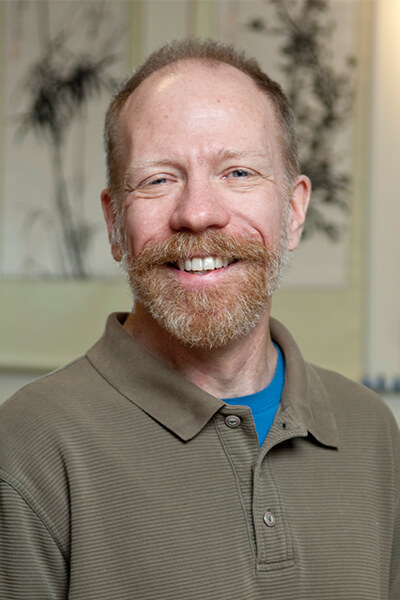 Roger is available:
Tuesdays 10:00am – 5:00pm
Thursdays 11:00am – 5:00pm
Saturdays 9:00am – 5:00pm
Roger Hughes,
LMT
Roger Hughes is a 1995 graduate of the Chicago School of Massage Therapy. He has been certified in Manual Lymph Drainage (MLD) and Combined Decongestive Therapy from the Vodder® School International since 1998. Roger is also a Trager® practitioner, tutor and instructor trainee.
Roger helps those suffering with the side effects of conventional cancer treatments including acute and chronic lymphedema, post-surgical swelling, bruising, edema and scar-tissue formation, reconstructive surgery healing, and the toxic side effects of chemotherapy. MLD's 'decongestive effects' are very effective in addressing and managing many conditions and their symptoms.
Roger's Trager® sessions teach the client how it feels to be relaxed, naturally. This approach gives the receiver the opportunity to learn from a positive feeling experience and to adopt helpful habits for dissolving tension in daily life. Trager® promotes self-awareness, ease and active comfort. This work is particularly suited for those who have experienced mental and or physical trauma.
Over a four-year period, Roger served as a volunteer and gave Trager® sessions to survivors of torture at Chicago's Marjorie Kovler Center. In 2012 Roger received the 'Pioneer Award in Massage Therapy' from the Illinois Chapter of the AMTA.
For further information about Roger and his active practice visit www.rogerhugheslmt.com.