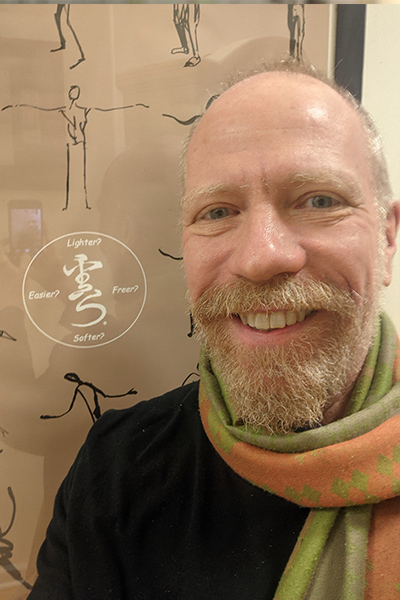 Roger is available:
Tuesdays 10:00am – 5:00pm
Thursdays 11:00am – 5:00pm
Saturdays 9:00am – 5:00pm
Roger Hughes,
LMT
Roger Hughes is a Certified Somatic Movement Educator and Therapist. In 2002 he received a certification as a Trager® Practitioner and 2017 he received the status as a Trager Instructor from the United States Trager Association.
Trager is a unique and pleasurable form of movement education and therapy. The essence in this approach is to work within the comfort, safety and open awareness of the client's relaxation response, or parasympathetic reflex. The balance of Trager touch, movement and presence facilitates a connection to 'Self' for optimizing felt repatterning or positive neuroplasticity. The practice of simple, helpful habits help to anchor the new felt awareness from a Trager session.
Additionally, Roger was certified in 1998 in the Dr. Vodder Method of Manual Lymph Drainage. He has extensive experience in working with those experiencing the 'multiple and layered' side effects of conventional cancer treatments. Roger has vast and equal experience in helping those recover and rehabilitate as part of a post-surgery healing protocol.
Roger has been a visiting Trager Instructor at the Potomac Massage Training Institute in Silver Spring, Md. since 2018.
As a volunteer Roger gave Trager® sessions to survivors of torture at Chicago's Marjorie Kovler Center. In 2012 Roger received the 'Pioneer Award in Massage Therapy' from the Illinois Chapter of the AMTA
For a complete view of Roger's Professional Practice visit:
https://www.rogerhugheslmt.com/