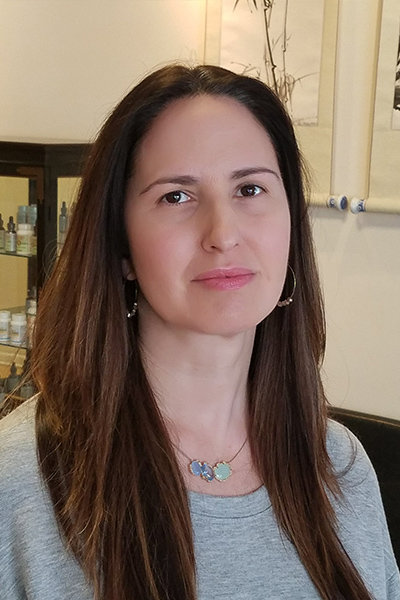 Rachel is available:
Wednesdays 12 noon – 6:00pm
Fridays 10:00am – 1:00pm
Saturdays 10:00am – 6:00pm
Rachel Cook,
L.Ac., Dipl. OM
Rachel received a Master of Science degree from Pacific College of Oriental Medicine and is NCCAOM board certified in acupuncture and Chinese herbs. While her clinical interests include women's health, chronic pain, digestive disorders, skin problems, allergies/asthma, insomnia and facial rejuvenation, she specializes and has advanced training in infertility and orthopedic disorders.
Rachel has experience in treating specific fertility problems such as irregular/annovulatory menstrual cycles, PCOS, thin endometrial lining, advanced maternal age, endometriosis and elevated FSH levels. Understanding that the stress and the sense of urgency accompanying the conception process can be overwhelming, she focuses on improving patients' reproductive health while also helping them to feel more relaxed. Patients undergoing hormone therapy, IUI and IVF have successfully conceived under Rachel's treatment, in addition to those who she has helped to conceive naturally. Treatment plans include acupuncture, Chinese herbal formulas, Eastern nutrition, lifestyle advice, and are tailored to address each patient's individual needs.
A multidisciplinary approach is used in Rachel's treatment of orthopedic disorders; she uses a combination of acupuncture, electro-stimulation, cupping, and gua sha. By blending traditional Chinese style acupuncture with trigger point therapy and orthopedic acupuncture, patients get optimal results. Rachel has experience in treating neck and back pain (with an emphasis on lumbar disc problems), and also treats inflammatory joint conditions including those caused by rheumatoid arthritis and osteoarthritis.
Rachel Cook, L.Ac., is in network with United Healthcare (Optum), and Blue Cross Blue Shield.  Please check your plan to see if you have acupuncture coverage.